I have been attending a local Mommy and Me program at a church near our home. My church does not offer a ministry like this so I am visiting a church that offers this ministry. I have really enjoyed getting to meet other moms with children my son's age. I guess you could say I am making friends for my son...
At the last meeting the following question was posed to us: In your daily routine, how do you incorporate the word of God?
The Scripture they presented was Isaiah 55:1-3

"
"Ho, every one who thirsts, come to the waters; and he who has no money, come, buy and eat! Come, buy wine and milk without money and without price.
2

Why do you spend your money for that which is not bread, and your labor for that which does not satisfy? Hearken diligently to me, and eat what is good, and delight yourselves in fatness.
3

Incline your ear, and come to me; hear, that your soul may live; and I will make with you an everlasting covenant, my steadfast, sure love for David.
"
I think this is an important question to ask, one that every Christian should ask themselves periodically. I thought this was as good a time as any to evaluate my spiritual practices. I have been thinking about this question for a few days and while I know I make an effort to get the word of God in everyday, I admit it is hard to do sometimes. I know if I have struggled with finding a way to maintain this spiritual practices that there are other moms out there who are struggling too. Here are some suggestion based on what I do and some that I have found on the Internet.
Reading the Word with your Children
One of the ways I get my daily does of Bible study is through reading Bible stories to my son. At least once in the day I try to read a Bible story with him, we usually do this in the morning when we are getting dressed (he needs a chance to run around in between putting on articles of clothing). We are currently reading The Story for Little Ones: Discover the Bible in Pictures by Max Lucado and Randy Frazee. I really enjoy this book because it makes the stories short and sweet and sums up the moral of the story very well. After we read one of the stories I talk to my son about it. He isn't old enough to have a discussion with me yet but it gets me thinking and reminds me of some important stories I have forgotten. Plus it is hard to get frustrated with your son for taking so long to get dressed when you just read a story about how much God loves you...
There are many great children's Bibles out there to choose from and they even have Bible study board books. We also like a series of books that explain the holidays and who the saints were that inspired them. I do not personally pray to saints for intercession but I do think saints offer good examples of Christian role models. They also offer a brief understanding of the roots of popular holidays.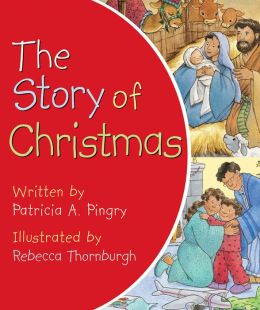 Listening to the Word on the Radio or Pandora
The radio waves offer many opportunities to get The Word. When my son is in the car we I try to make sure the music and talk coming through are of high moral quality. The song "Be Careful Little Ears What You Hear" comes to mind when we are in the car. I also like to play music when we are at home during play time too. I am fortunate to be married to a music worship leader so we have a great library of Christian music but we also listen to some other channels too:
Many of these channels also offer free apps. and you can stream the music from anywhere.
Bible Study Right and Proper
While the things listed above are great ways to stay focused on God and get my daily dose of The Word, it does not replace picking up the Bible and spending time with the text it self. I find it incredibly hard to get daily Bible Study. I will admit that I get frustrated with devotional books because I feel guilty when I open them up and realize I missed a day. Then catching up becomes overwhelming. There are a couple of ways I tried to get a daily Bible study in but I have personally not found one that works well for me. I will find my grove one of these days. Below are some websites you can subscribe to or Apps you can download that will send you daily devotionals.
Books
The lady leading the Bible study at the Mommy and Me program I attended suggested that we find a book over the summer to read. This may or may not be something that works for you. I don't find much time to read for personal fulfillment and when I do it is usually a parenting book (I wrote a blog on the toddler books I have read). However, I have read a few Christian parenting books that I really liked.
The Resolution for Women by Priscilla Shirer is the female companion to The Resolution for Men which is offered by Going Beyond Ministries. My husband got me a copy when he bought The Resolution for Men. It might make a good Husband and Wife devotional time if you are looking to do something together. I will be honest this book is on my night stand and I try to pick it up to read but it is not always on the top of the stack...I am struggling to get through it but maybe it will be one of those books that I just pick up every now and then a few years from now it is finished...
While it is really easy for us to be hard on ourselves as mom's we have a lot on our plate. After leaving the Mommy and Me program I had a moment where I felt really over whelmed and a bit guilty that I wasn't taking more of an active role in doing a personal daily devotional. Then I realized that faith isn't about how much you do it is about the effort you are putting in. Jesus told us

"Because of your little faith. For truly, I say to you, if you have faith as a grain of mustard seed, you will say to this mountain, 'Move from here to there,' and it will move; and nothing will be impossible to you." Matthew 17:20
. Jesus knew we would have times when it would be difficult but He also showed us that all thing are possible through Him. There a Christians all over the world who cannot read and who have never read the Bible, yet they believe. Even though I can access The Word, they are no less of a believer than I am.
After writing this blog I felt better. I know I am trying and I know I am trying to teach my son about Jesus as well. As a teacher I know that the more you teach something the better you know it yourself and for me I think this is true; especially when it comes to getting The Word in on a daily basis. Many things have changed in my life since becoming a mom and it doesn't and shouldn't surprise me that my spiritual practices have changed to. Is spending time with The Word important? Absolutely, and like all the other things I do these days that means my child is right there doing it with me. It may not look like the kind of devotional I did when I didn't have kids, but maybe it shouldn't look the same. When my son is ready to study The Word meditatively then I will be right there to show him how. For now stories and songs are working great. The stories of the Bible are accessible to both of us and I consider that a Win for Jesus!
If you have suggestions or resources you would like to share, please post them in the comments below!